Hello everybody
Last week Fábio Picchi, Helô Yoshioka and I (Daniel Preto) together with Arthur Vieira participated alongside studios Miniboss, Behold and Fire Horse in BIG Festival's Dev Island competition, a 24 hour jam themed "Eat, Drink and Play" with a set of rules and conditions. First of all, no internet or outside communication allowed. Secondly, we had to include in the game a series of items listed by the hosts that comprised of a red sofa (that had to take part in the gameplay), a touristic spot from the city of São Paulo somewhere and the game had to feature two sound effects made with our mouths. (Links will follow at the end of this post)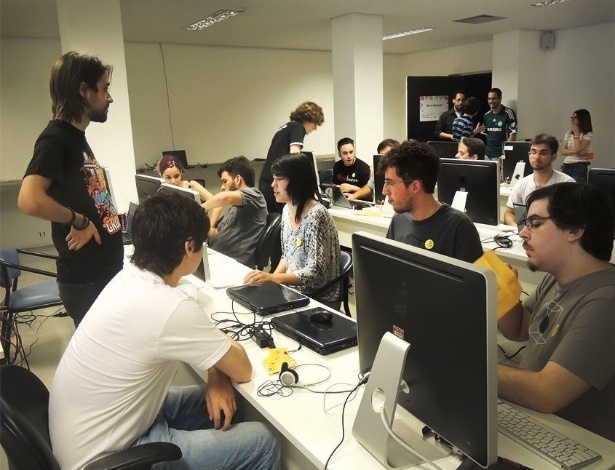 We tried to have as much fun as possible during the concept process and development, and ended up making a rather personal, funny game about people who play a bit too much. The development was quite tiresome and not without it's little stresses, as comes with events such as this. Working that many hours straight isn't a trivial task, and 24 hours (opposed to the 48 we're used to) mean a lot less rest time and space to make mistakes, but it all worked out in the end.
Even though we liked the end result, we were actually surprised not only by the fact that we had won first prize, but also by the reception from the media (Indie Games, RPS, Rubber Chicken Games) and our players. It's like a dream, thanks a lot people! We made the game available for browser play through the link below, hope you have fun!
Play Pro Gamer: The Game
Also, the link to Miniboss, Behold and Fire Horse's games.